» By Joren on Friday 27 May 2011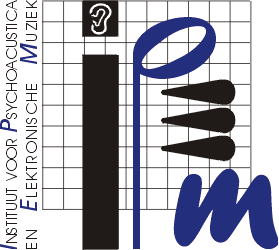 The 25th of May 2011 Tarsos was present at the IPEM open house.
IPEM (Institute for Psychoacoustics and Electronic Music) is the research center of the Department of Musicology, which is part of the Department of Art, Music and Theater Studies of Ghent University. IPEM provides a scientific basis for the cultural and creative sector, especially for music and performance arts, and does pioneering research work on the relationship between music body movement and new technologies. The institute consists of an interdisciplinary team but also welcomes visiting researchers from all over the world. One of its aims is also to actively try and validate research results during public events and by means of user studies.
There are close relations between the Royal Conservatory Ghent, where we are located, and IPEM. There is more information about the IPEM open house available. Also available is the program of the IPEM open house 2011
Tarsos was presented using a poster, a flyer and a live demo. The poster about Tarsos and the flyer about Tarsos are both downloadable.
---