» By Joren on Thursday 30 March 2017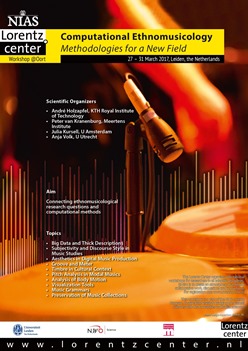 From 27 to 31 March 2017 I have attended a workshop on Computational Ethnomusicology: Methodologies for a New Field at the Lorentz Center in Leiden. The workshop format was aimed at creating time for interdisciplinary discussion.
It was attended by a mix of (Ethno)musicologists, archivists, computer scientists and people identifying themselves as more than one of these categories by varying degrees. This mix ensured a healthy discussion and talks by Frans Wiering, Willard McCarthy, Emilia Gomez, and may more provided ample source material to discuss. These discussions ranged from the abstracts around schemata down to concrete of software tools for archive management.
On a more personal side the workshop did provide useful insights to contextualize my research and help form ideas that can be condensed in my PhD dissertation.
---