» By Joren on Tuesday 25 November 2014
The 27th of November, 2014 a lecture on audio fingerprinting and its applications for digital musicology will be given at IPEM. The lecture introduces audio fingerprinting, explains an audio fingerprinting technique and then goes on to explain how such algorithm offers opportunities for large scale digital musicological applications. Here you can download the slides about audio fingerprinting and its opportunities for digital musicology.
With the explained audio fingerprinting technique a specific form of very reliable musical structure analysis can be done. Below, in the figure section, an example of repetitive structure in the song Ribs Out is shown. Another example is comparing edits or versions of songs. Below, also in the figure section, the radio edit of Daft Punk's Get Lucky is compared with the original version. Audio synchronization using fingerprinting is another application that is actively used in the field of digital musicology to align audio with extracted features.
Since acoustic fingerprinting makes structure analysis very efficiently it can be applied on a large scale (20k songs). The figure below shows that identical repetition is something that has been used more and more since the mid 1970's. The trend probably aligns with the amount of technical knowledge needed to 'copy and paste' a snippet of music.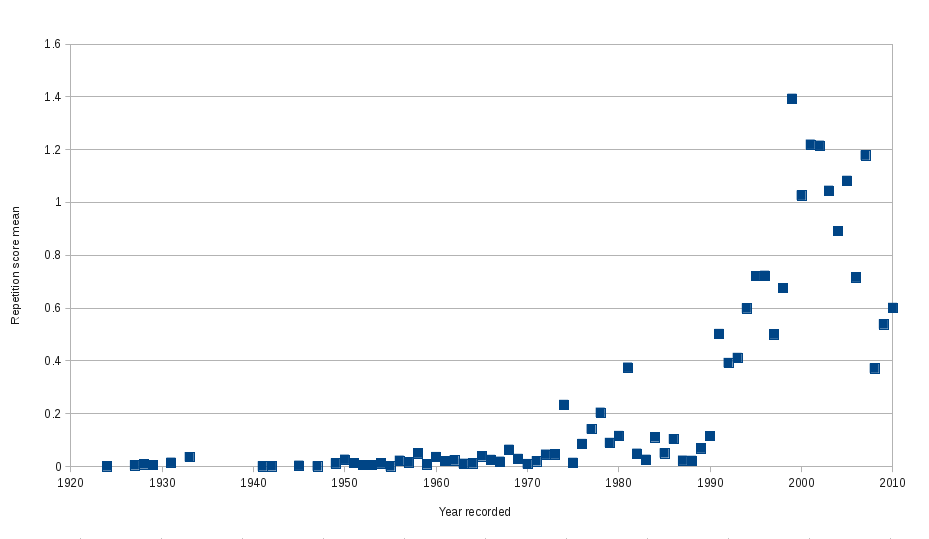 Fig: How much identical repetition is used in music, over the years.
The Panako audio fingerprinting system was used to generate data for these case studies. The lecture and this post are partly inspired by a blog post by Paul Brossier.
---